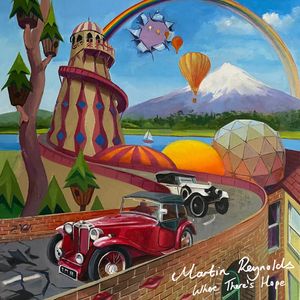 ORDER WHERE THERE'S HOPE NOW!
Where There's Hope is the brand new debut album by Martin 
Reynolds 
The albums birth took place after the country went into lockdown, Knowing this was on the cards, he borrowed his band mate (Leon James) 24 track mixer and started demoing songs at home. As soon as the first set of restrictions were lifted he headed to his sanctuary (the now defunct Silky Studios) where he began laying tracks down to what would become 'Where There's Hope'. 
'Where There's Hope' is made up of 10 brand new original acoustic compositions. 
 Track listing: 
1. Strange Days Indeed 
2. God Bless This Broken Road 
3. The Boy's Got Rhythm 
4. If These Walls Could Speak 
5. No One's Ever Truly Gone 
6. Little Robert 
7. Profit Vs. People 
8. I'll Crawl 
9. The Sea And The Moon 
10. The Sky Ain't The Limit 
 credits  
Release date - 25/06/2021 
Music and words by Martin Reynolds 
Performed by Martin Reynolds 
Recorded by Martin Reynolds at Silky Studios, Tamworth, Fazeley Studios, Birmingham, Malham Road Studios, Tamworth 
Mixed By Martin Reynolds 
Produced By Martin Reynolds 
Mastered by Andrew Monckton at www.silvertailmastering.co.uk